Empowering Connections & Unleashing Potential: My Experience at EDIST 2023 with Acumen

Insights, Inspiration, & Unforgettable Moments in the World of Electricity Distribution
Recently, I had the incredible opportunity to attend EDIST 2023, a renowned conference in the Electricity Distribution industry, representing Acumen (AESI Acumen Engineered Solutions International Inc.). As a first-time attendee and a proud representative of Acumen, I embarked on a journey that exceeded all expectations with Acumen's Director of Energy Solutions, Nimish Bhatnagar, by my side. Join me as I recount the memorable moments, valuable connections, and insightful discussions that made EDIST 2023 an experience to remember.
Setting the Stage: Acumen's Vibrant Booth
Stepping into the conference hall, I couldn't help but feel a surge of excitement as I laid eyes on Acumen's eye-catching booth. Our vibrant display stood tall, inviting attendees to explore the realm of regulatory compliance, cyber and physical security, operational technology, and energy services. But that's not all - our booth had an irresistible allure, featuring a giveaway for a pair of Bose Noise Cancelling headphones. With over 50 people signing up for the giveaway, the buzz surrounding Acumen was palpable.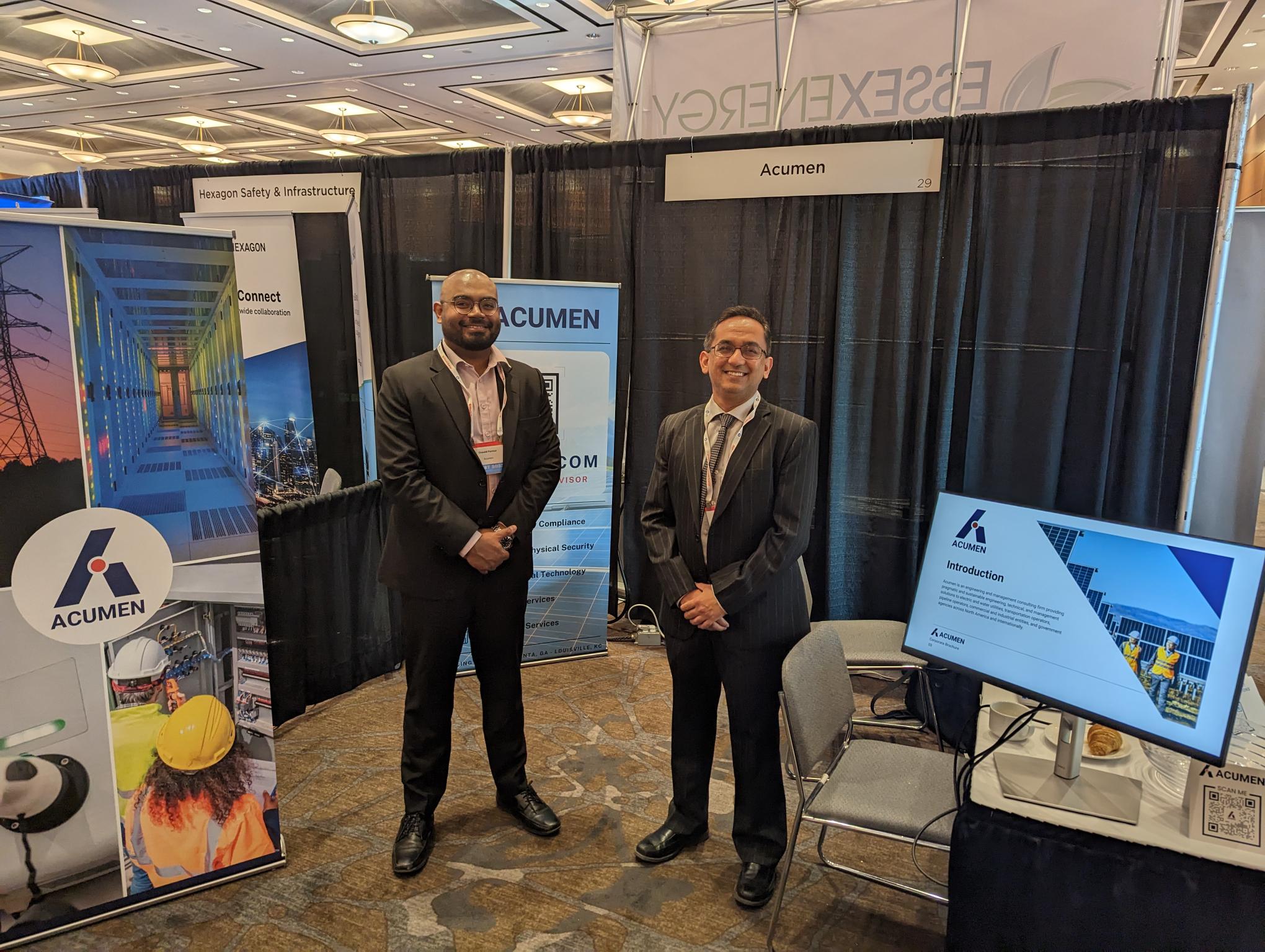 A Name That Echoes: Acumen's Cult Following
As I engaged with fellow industry professionals, it quickly became apparent that Acumen had established itself as a trusted and consistent player in the field. However, a curious trend emerged - many attendees recognized Acumen by its previous name, AESI. It was heartening to discover that Acumen had built a cult following, with a reputation for delivering exceptional results since 1984. The genuine praise and gratitude from those who had experienced Acumen's expertise firsthand filled me with pride and excitement for what lay ahead.
Forging Connections & Discovering Trends
EDIST 2023 was an exceptional platform for networking and knowledge exchange. Countless individuals who stopped by our booth expressed keen interest in Acumen's offerings. It was an enlightening experience to witness the sheer passion and dedication of industry professionals, each seeking ways to advance the electricity distribution landscape. Engaging in conversations with these dynamic individuals allowed me to grasp the prevailing trends and emerging hot topics within the industry.
Electrifying the Future: The Electric Vehicle (EV) Revolution
Among the various themes discussed, the hottest topic that set the room ablaze was the electrifying rise of Electric Vehicles (EVs). The implications of this transformative shift within the industry, utilities, regulatory policies, infrastructure, and its economic impact on the common man and government resonated with attendees. The discussions surrounding EVs opened doors to exciting possibilities and sparked thought-provoking debates, highlighting the immense potential and challenges that lie ahead.
An Event to Remember: Organizational Excellence & Culinary Delights
Kudos must be extended to the organizers of EDIST 2023, the EDA, for orchestrating a flawlessly executed event. Not only were our needs well catered to, but the delectable refreshments and scrumptious lunch menus left everyone satisfied and energized. It's the little touches like these that made the overall experience truly unforgettable.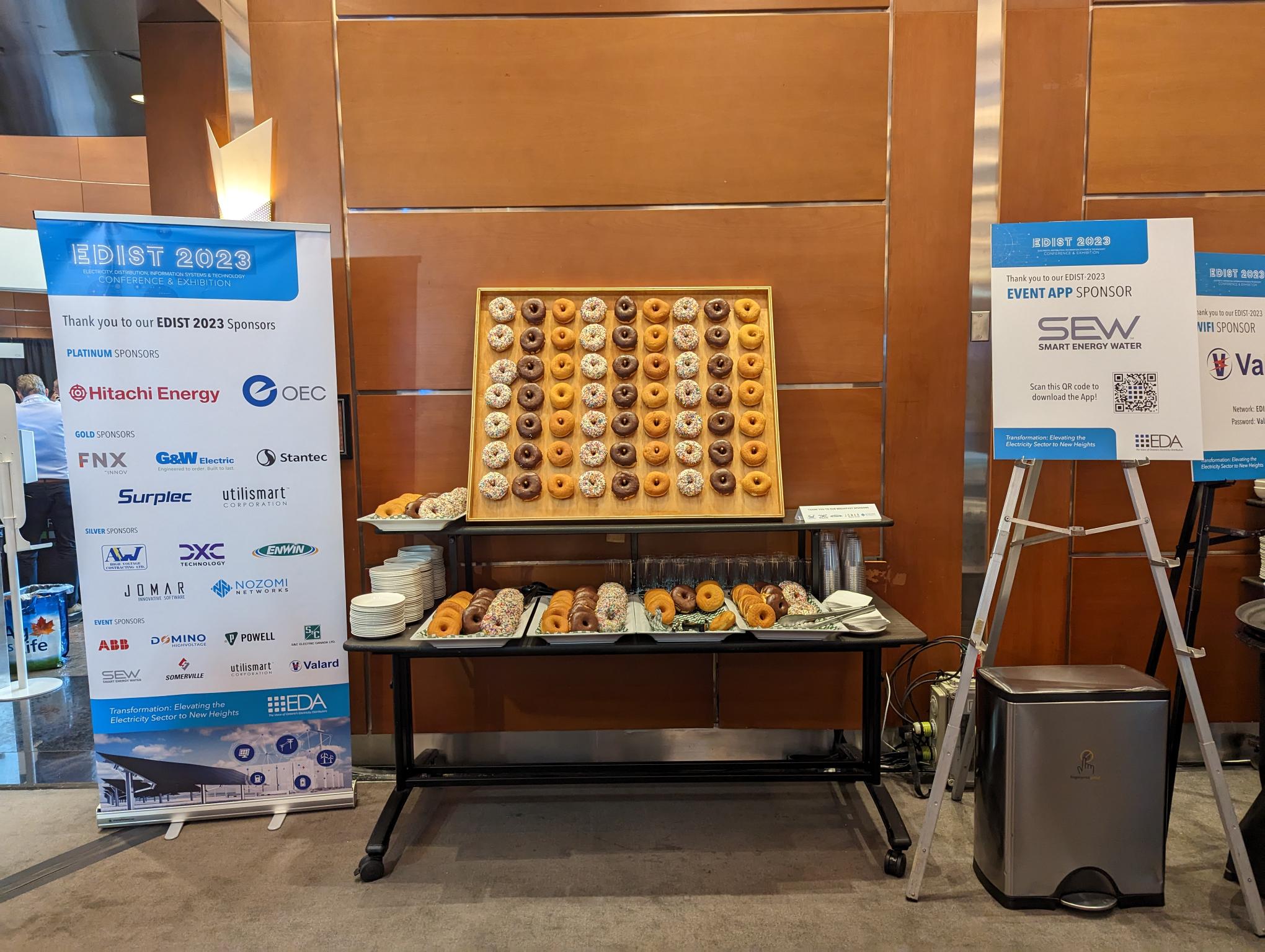 Looking Ahead: Acumen's Future & The EV Evolution
As the conference drew to a close, I couldn't help but feel a sense of anticipation for the future. Acumen's success at EDIST 2023 and the overwhelmingly positive response reinforced our position as a leader in regulatory compliance, cyber and physical security, operational technology, and energy services. We eagerly await the opportunity to return to EDIST in 2024 and share our progress, while also diving deeper into the ever-evolving world of EVs for LDCs.
Stay connected and up-to-date with Acumen by visiting our website and following our LinkedIn page. Not only will you gain access to expert opinions and industry insights from our experienced leaders, but you'll also be the first to know about exciting announcements, including the lucky winner of our Bose Noise Cancelling headphones giveaway from EDIST 2023.
That's not all! We invite you to join our newsletter community, where you'll receive exclusive content, industry updates, and valuable Acumen resources straight to your inbox. Check out our blog and subscribe to ensure you never miss a beat!