Natural gas has had an eventful week with highlights including EIA Storage, Dutch fields, and Russian rumors. The front month Henry Hub price started the week around $2.20 and traded above $2.50 after a weaker-than-anticipated build in the storage report. While storage levels still remain well above previous and five-year averages, a below-consensus report was layered on top of some lower production chatter.  
Storage might get all the attention, but natural gas in Europe has been in rally mode for much of June. The Dutch TTF July gas future traded from 23 EUR on June 1 to 38 EUR Wednesday. While that seems like a massive move, for some context, the front month contract traded to nearly 300 EUR during the height of last fall's panic. The move has been triggered by a couple of headlines. A story surfaced that the Dutch have decided to shutter Europe's biggest gas field, Groningen, by the end of the summer. While the Dutch have responded by claiming no time has been set, this field has seen reduction over the years over concerns that drilling has been the cause of local earthquakes. While closure may or may not be on the table, it's fair to assume at the very least, further decline in output is coming. Also, there was news earlier in the week that Russia has signed a deal approving export to China via the Far East route, creating fear that Russia may stop delivering pipeline gas through Ukraine. If those two events come to fruition, it isn't hard to see why the European market might be jittery.  
Summer is apparently here. ERCOT has issued a Weather Watch from June 15 - 21 due to forecasted higher temperatures and anticipated higher electrical demand. Grid conditions are normal and can be monitored on ERCOT.com. Peak demand is expected to be 83GW on June 20, which will eclipse the record of 80GW set July 2020. At this time, ERCOT is stating they have plenty of capacity to handle the demand.  
FERC approved PJM's delay of the 25/26 capacity auction from this week until June 2024. Judging by the comments from the commissioners, it didn't sound like anyone was happy about the move, but noted that it had to be done given the current state of the PJM capacity market. Commissioner Clement was the lone dissenting vote, with concerns that this sets a bad precedent for future auctions. PJM had requested this delay to give time to revise the market after the events of Winter Storm Elliott late last year.  
On the subject of Winter Storm Elliott, NERC/FERC released an updated presentation yesterday. Frankly, no "stop the press" moments here, but worth a look in the attached link.
NOAA WEATHER FORCAST

DAY-AHEAD LMP PRICING & SELECT FUTURES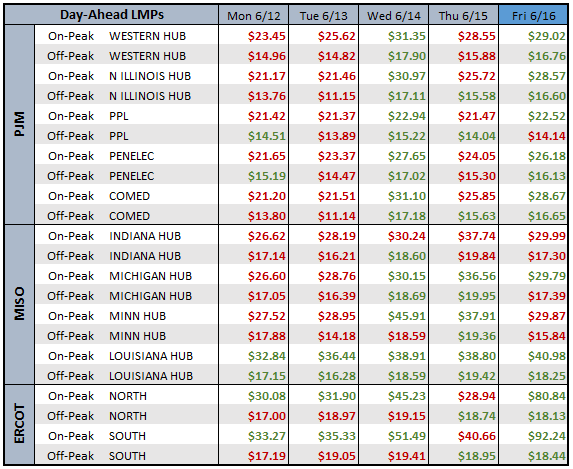 DAILY RTO LOAD PROFILES

COMMODITIES PRICING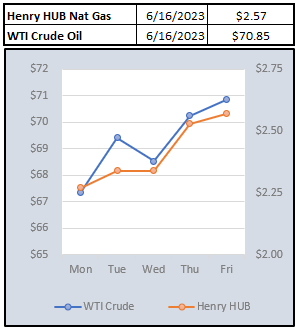 ---
Not getting these updates delivered weekly into your inbox? Let's fix that, click the link below: